Happy New Year; Serums 101.
The weather has certainly been challenging this season especially to those of you with drier, sensitive skin. So we wanted to share with you our advice and tips for surviving winter!
Or your SKIN'S S.O.S !!!
Here's our top picks:
Serums 101.
WHAT IS A SERUM AND WHY DO I NEED IT?
Serums are generally formulated with higher concentrations of active ingredients to be applied underneath your regular moisturizer to give the skin an extra boost when it's tired, dry, dehydrated or devitalized.
YES! YOU NEED IT!!!
Particularly at this time of year.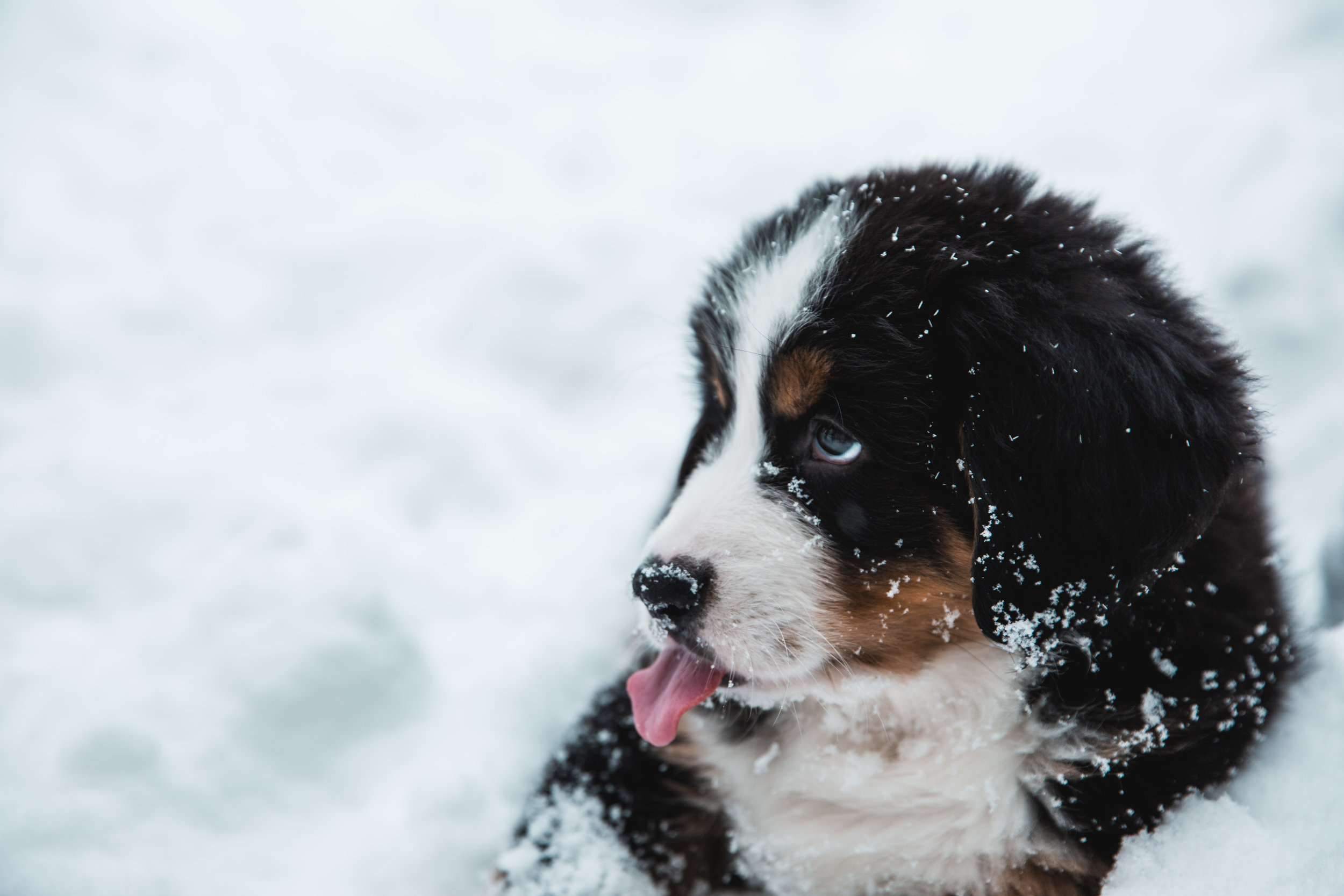 Well unless you are super-human and I know there are many of you out there!!! But for the rest of us…
~ You have 'over-indulged' on a plethora of holiday goodies including alcohol, which can seriously dehydrate the skin.
~ You have had less sleep than normal, which again leads to the skin looking tired and devitalized.
~ You are battling with the elements; the winter months are notorious for leaving the skin dry and irritated. The cold weather also empathizes fine lines and wrinkles unless we keep it moist and hydrated. Not to mention causing conditions like broken capillaries, especially if you are an outdoorsy person. It's so important to protect our skin with a great cream to prevent these things.
Flora's Bare Serums.
We have 3 Serums.
The Oil Serum.
These serums are comprised of high end carrier and essential oils. Applied morning and night under your moisturizer or, for extra dry skin, can be mixed with your regular moisturizer.
These high end oils offer moisturizing and barrier repair properties but also contain vitamins, fatty acids and antioxidants that can be metabolized by the skin.
We have 2 types of Oil Serums: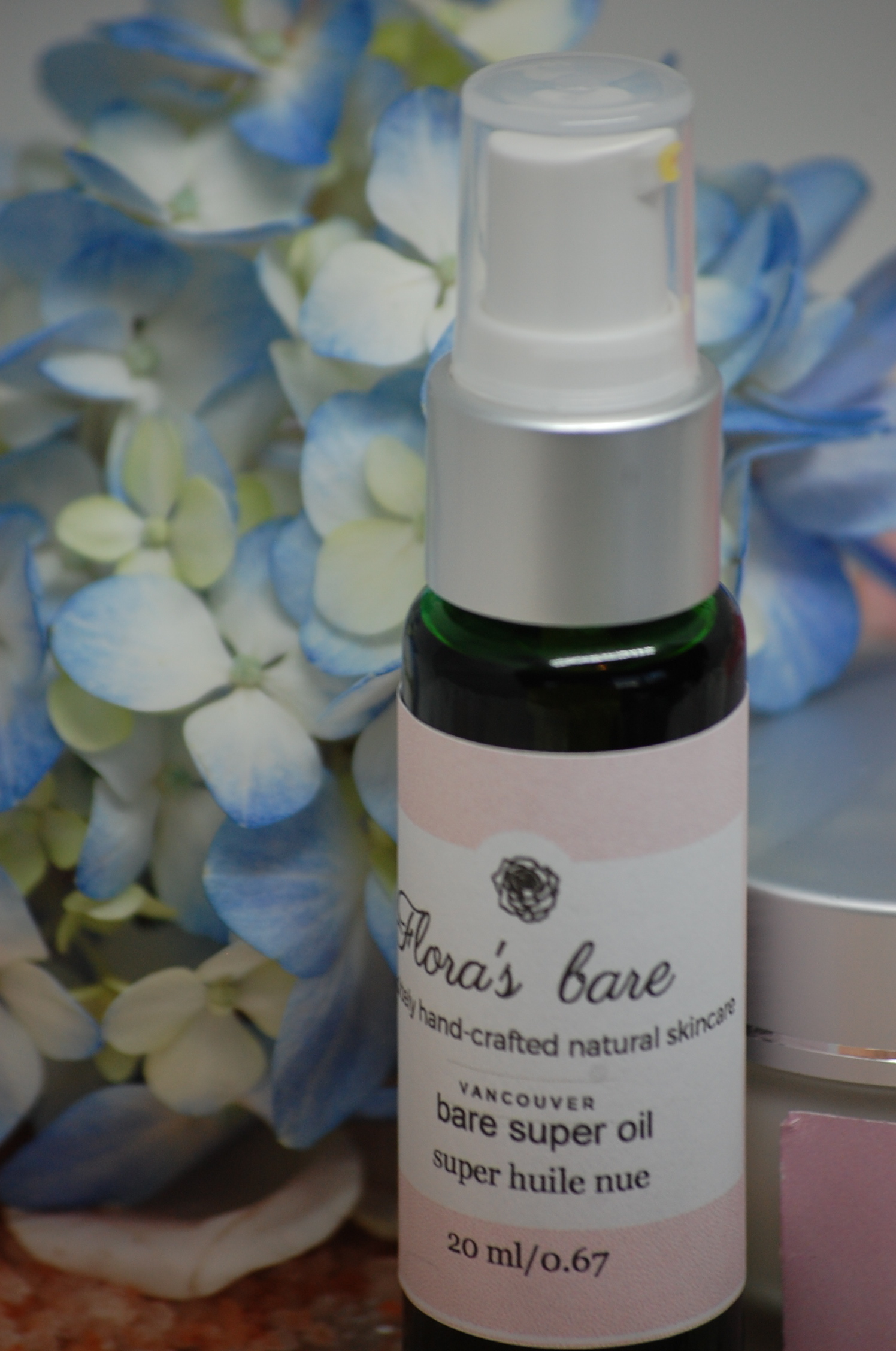 Bare Super Serum - it's called SUPER for a reason, it's packed with potent oils for SUPER result! Here's a few:
Rose hip Seed Oil - our serum is comprised of 45% of this amazing oil, derived from the seeds of rose bushes through cold press extraction. It is known to have significant anti-aging benefits as it is packed with vitamins E,C,F and pro-vitamin A which contribute to its antioxidant effect.
Camellia Oil - rich in oleic acid and an assortment of vitamins, namely; vitamins A,B,C,D and E. Studies conducted on this oil have shown to increase pro-collagen, required in the process of collagen synthesis.
Carrot Seed Essential Oil - this oil contains an interesting component called carotol. It is believed that this oil, which makes up 40% of the essential oil, aids in rejuvenating the skin, as well as firming and toning.
Pomegranate Oil - contains a high concentration of antioxidant compound ellagic acid, which prevents and minimizes damage caused by ultraviolet radiation and other pollutants. Another component, punicic acid provides hydration to the skin and aids in stimulating collagen and elastin.
Chia Seed Oil - this powerful seed oil is loaded with unusually high levels of phytonutrients and antioxidants more so than blueberry seed oil. Not to mention Alpha Lipoic acid; a powerful antioxidant that helps to minimize fine lines, wrinkles and enlarged pores.
There's more, yep, go to serums and eye creams page to see complete list.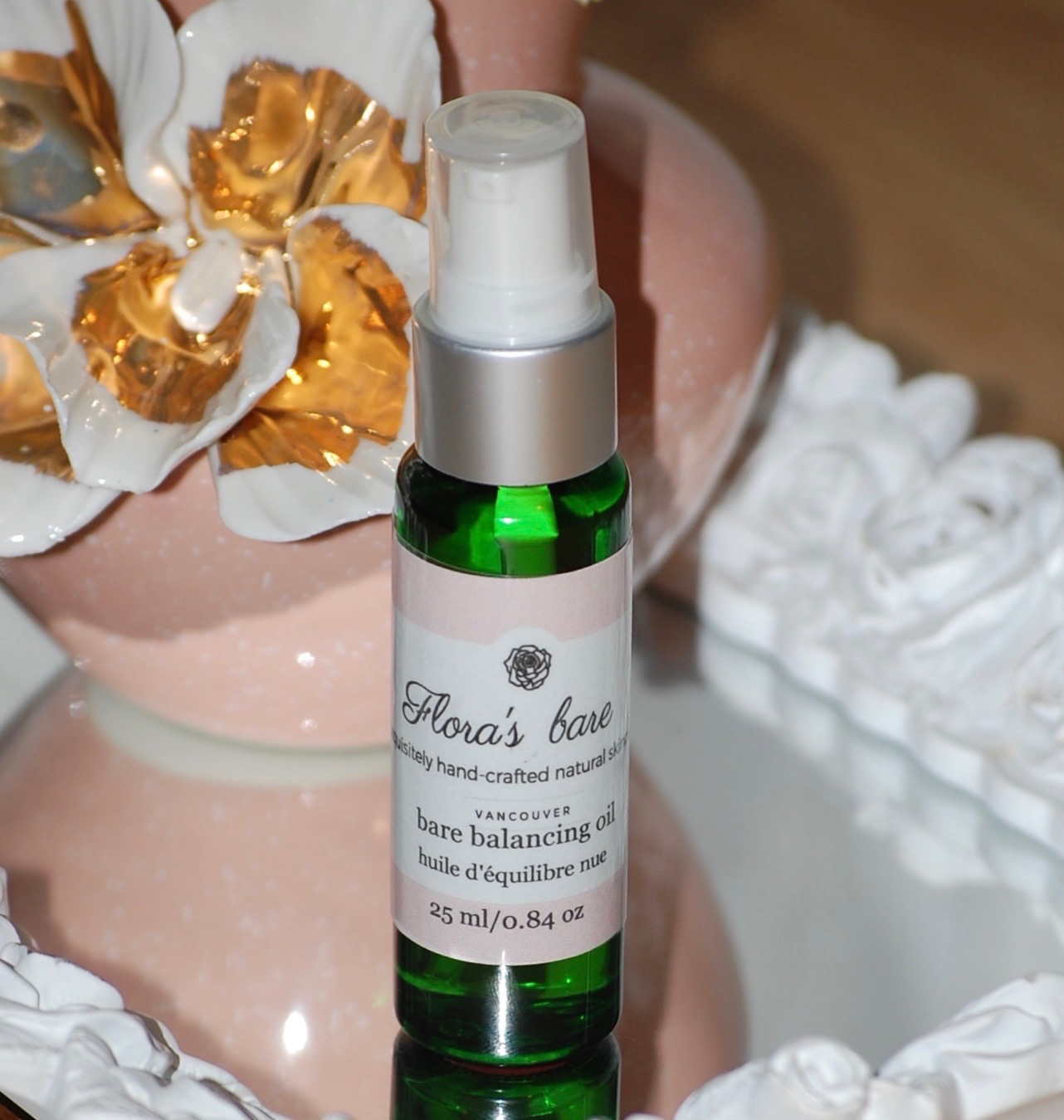 Bare Balancing Serum-this incredible oil is beneficial in balancing an unbalanced skin.
Not just for oily, acne skin but also very beneficial to eczema, rosacea and irritated skin. Packed with powerful oils that leaves your skin feeling soothed and irritation free.
Helichrysum essential oil, our star ingredient - obtained from the bright and fiery helichrysum flowers; helichrysum is a precious oil that is quite expensive but rigorous in its healing action. Excellent for sunburned, mature skin and skin conditions like eczema, psoriasis and acne because of its cell renewal properties. Helichrysum oil has powerful wound healing effects. Antioxidant, anti-fungal , antibacterial and anti-inflammatory. A fantastic addition to our balancing oil blend.
Jojoba oil - is very similar to our own natural oils on our skin, helping it to blend and be easily absorbed into the skin.
Evening Primrose Oil - is packed with omega 6 fatty acid which is critical for healthy skin. Helping tame inflammation and balancing the oils of the skin, reducing itching and swelling.
Squalene oil - naturally extracted from olive oil, enhances the skin's ability to naturally regenerate as it hydrates and oxygenates. As a natural antibacterial agent, it is effectively used to treat eczema, psoriasis and other unbalanced skin conditions. Light and easily absorbed it helps to soothe and softens the most delicate skins
Geranium essential oil - this oil has placed in the top for essential oils to help with battling acne, eczema and dermatitis as it helps to soothe and reduce redness and irritation on the skin. Geranium is known for its regenerative properties helping to elevate tension and help with hormonal moods.
Ylang Ylang essential oil - this essential oil comes from the flowering petals of the Ylang Ylang Tree: a sweet, erotic smelling oil that helps to lift moods and lighten spirits while slowing down sebaceous secretions.
The Emulsion Serum.
These serums deliver high performance ingredients into the skin, while strengthening the skin's barrier function. An emulsion has the best potential to deliver active ingredients deep down into the skin's tissues.
We only have 1, - so far…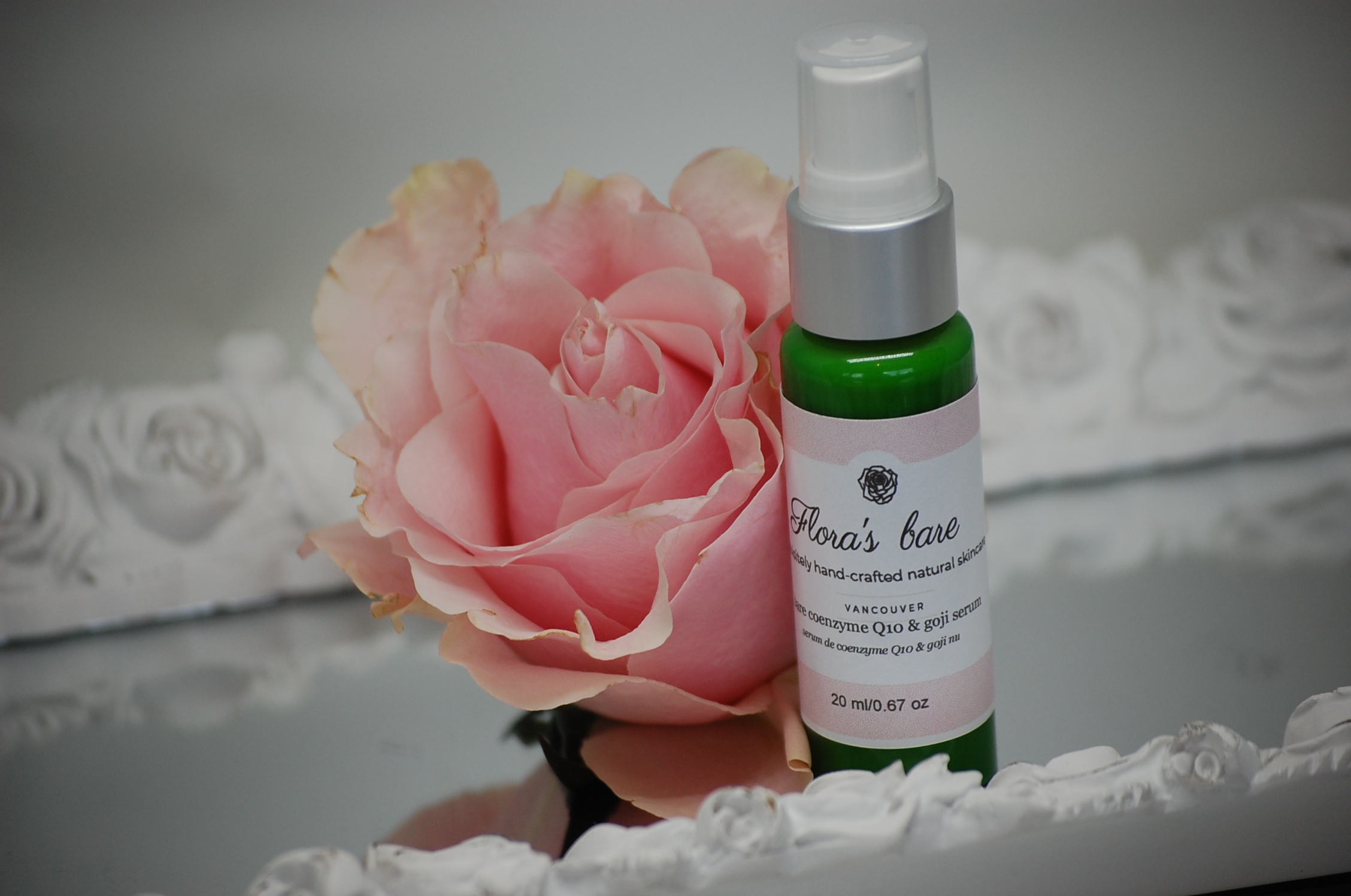 Bare Co-Enzyme Q10 and Goji Serum.
C0-enzyme Q10 is produced naturally by the body but from about the age 30 it starts to decline, therefore we need to find it from outside in our diet or topical application. It has been known to to encourage cellular energy and delay the visible signs of aging. This potent antioxidant also stimulates the circulation and boosts cellular energy. It's not called an age stopper for nothing!
Goji berry - contains large amounts polysaccharides, amino acids and vitamins, goji deserves consideration as an energizing and stimulating ingredient which may provide strength and energy to the cells to perform their metabolic functions.
Vitamin B3 - aids in skin moisturization and is also used to help impart a more even looking skin tone on pigmented skin. It is known to aid in the reduction of trans epidermal water loss, so important to prevent dehydration in the skin.
Geranium Essential Oil - aids in lightning and toning the skin, strengthens and soothes thread veins and broken capillaries.
Yes there's more check out our full ingredient list on our website www.florasbare.com.
Not sure what your skin needs? We are offering complimentary consultations in our studio on Wednesdays and Fridays from 10am to 6pm - email us for an appointment - florasbare@gmail.com
We also are offering FREE delivery on the north shore for the month of January.
Love Flora x